XYALIS at DAC conference 2023 : booth #2455
News & Press
XYALIS at DAC conference 2023 : booth #2455
XYALIS celebrates 25 years of providing state-of-the-art software solutions that increase productivity and reliability of Mask Data Preparation (MDP).
With tools ranging from Multi Project Wafer (MPW) placement, frame generation, mask set design, field stitching, mask order form generation, chip and reticle-level dummy fill, and layout manipulation tools, XYALIS automates MDP for the most complex designs with optimum performance and memory usage. A new MPW design flow minimizes die fracture in advanced 3D packaging wafer thinning process.
Focused on ease of use and computing and memory performance, XYALIS MDP tools automate the most repetitive and time demanding steps of mask layouts:
Multi-Project Wafers placement optimizing production costs,
Frame generation based on intuitive, reusable process specific templates,
Mask set layout editing.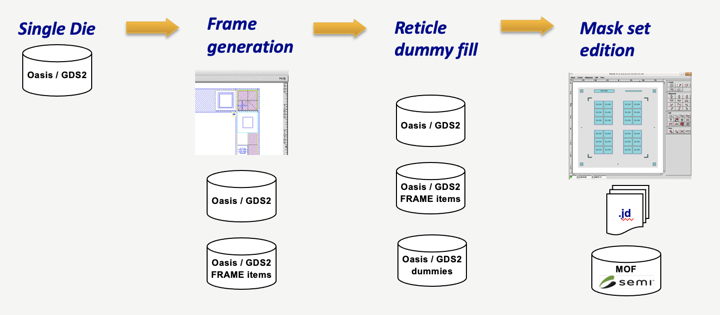 Support for SEMI standards, powerful scripting capabilities, and now a communication link to any SQL database make XYALIS MDP tools easy to integrate in any customer design or manufacturing flow.

XYALIS will also demonstrate at the DAC 2023 conference GOTstyle and GOTfiller, CMP fill engines. These tools deliver unsurpassed computing and memory performance for the most advanced processes at the chip and reticle level.
See us at DAC 2023 conference, San Francisco, Moscone Center, July 10-12, on booth #2455.
Monday, July 10 from 10:00 am to 6:00 pm
Tuesday, July 11 from 10:00 am to 6:00 pm
Wednesday, July 12 from 10:00 am to 6:00 pm